Activate Windows 10 from CMD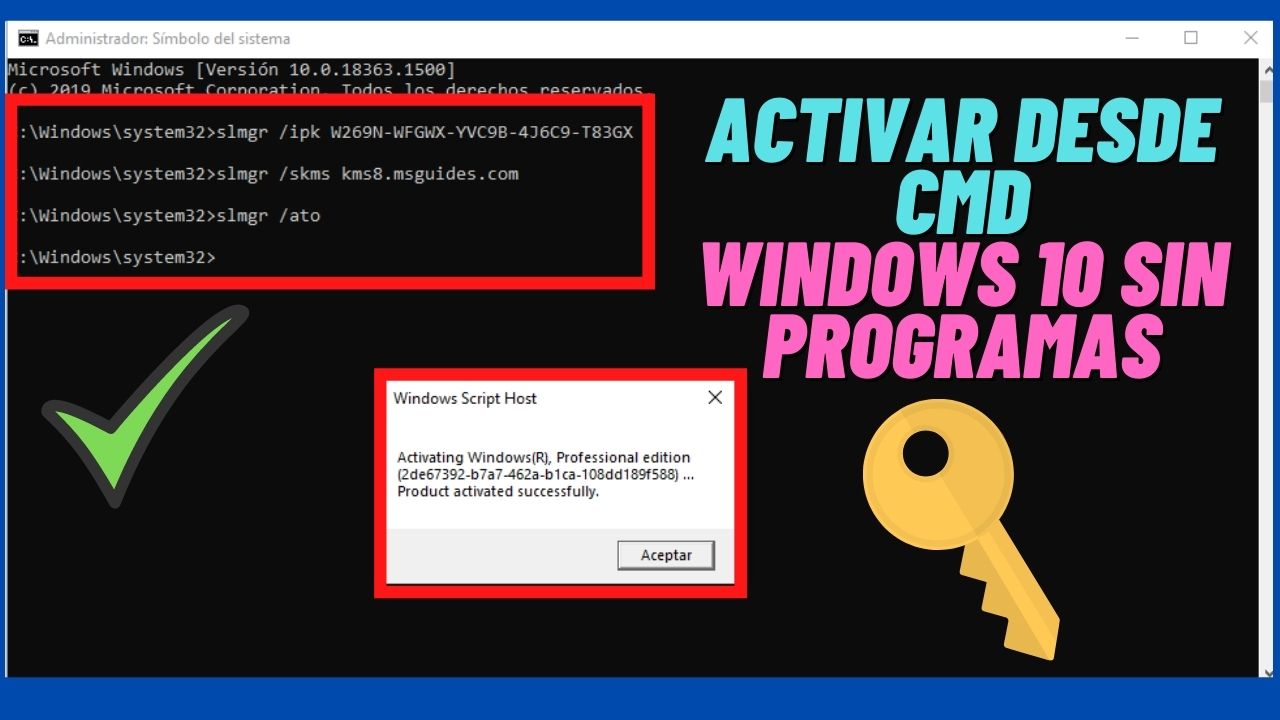 How to activate Windows 10 any version from the cmd (command prompt). This method to activate Windows 10 is one of the easiest. The only thing we will need are the commands and to have access as administrator.
You may see a message on your desktop that says "Windows is not activated". Do not worry, do not imagine that the trusted organization you bought the device from sold you with a pirated Windows 10 license. Since you did not enter the Windows 10 key during installation, you must activate it manually.
In my case I have the latest version of Windows 10 pro, so we must look for the right license.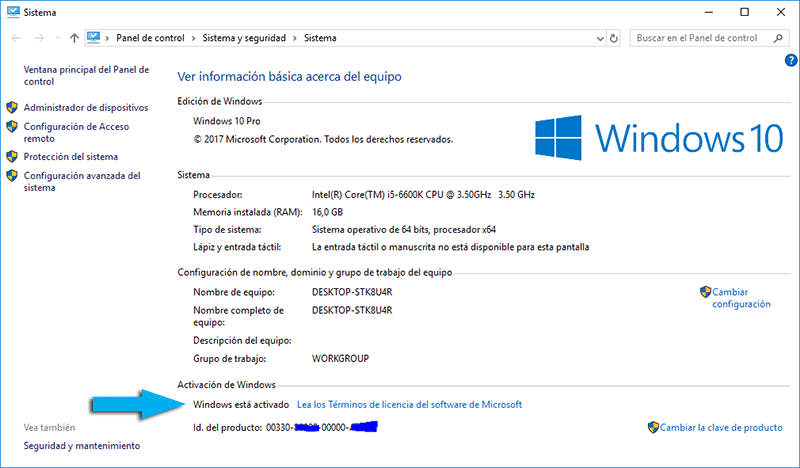 These are the steps to activate Windows 10 from cmd:
Go to home and type "cmd".
Right click "run as administrator".
Write " slmgr /ipk VK7JG-NPHTM-C97JM-9MPGT-3V66T ".
Then " slmgr /skms kms.digiboy.ir ".
Lastly " slmgr /ato ".
Keys to activate Windows 10.
TX9XD-98N7V-6WMQ6-BX7FG-H8Q99
KTNPV-KTRK4-3RRR8-39X6W-W44T3
YTMG3-N6DKC-DKB77-7M9GH-8HVX7
4CPRK-NM3K3-X6XXQ-RXX86-WXCHW
VK7JG-NPHTM-C97JM-9MPGT-3V66T
8N67H-M3CY9-QT7C4-2TR7M-TXYCV
2B87N-8KFHP-DKV6R-Y2C8J-PKCKT
DXG7C-N36C4-C4HTG-X4T3X-2YV77
WYPNQ-8C467-V2W6J-TX4WX-WT2RQ
Windows 10 Home Single Language:
7HNRX-D7KGG-3K4RQ-4WPJ4-YTDFH
NKJFK-GPHP7-G8C3J-P6JXR-HQRJR
NPPR9-FWDCX-D2C8J-H872K-2YT43
CKFK9-QNGF2-D34FM-99QX2-8XC4K
DPH2V-TTNVB-4X9Q3-TJR4H-KHJW4
WNMTR-4C88C-JK8YV-HQ7T2-76DF9
2F77B-TNFGY-69QQF-B8YKP-D69TJ
XGVPP-NMH47-7TTHJ-W3FW7-8HV2C
RW7WN-FMT44-KRGBK-G44WK-QV7YK
FW7NV-4T673-HF4VX-9X4MM-B4H4T
WGGHN-J84D6-QYCPR-T7PJ7-X766F
NK96Y-D9CD8-W44CQ-R8YTK-DYJWX
NW6C2-QMPVW-D7KKK-3GKT6-VCFB2
2WH4N-8QGBV-H22JP-CT43Q-MDWWJ
YNMGQ-8RYV3-4PGQ3-C8XTP-7CFBY
6TP4R-GNPTD-KYYHQ-7B7DP-J447Y
84NGF-MHBT6-FXBX8-QWJK7-DRR8H
8PTT6-RNW4C-6V7J2-C2D3X-MHBPB
GJTYN-HDMQY-FRR76-HVGC7-QPF8P
YVWGF-BXNMC-HTQYQ-CPQ99-66QFC
Windows 10 S:


3NF4D-GF9GY-63VKH-QRC3V-7QW8P

If the above Windows 10 keys did not work, you can try one of the keys below:
MH37W-N47XK-V7XM9-C7227-GCQG9
334NH-RXG76-64THK-C7CKG-D3VPT
PBHCJ-Q2NYD-2PX34-T2TD6-233PK
VKJG7-NPHTM-C97JM-9MPGT-3V66T
W269N-WFGWX-YVC9B-4J6C9-T83GX
NRG8B-VKK3Q-CXVCJ-9G2XF-6Q84J
9FNHH-K3HBT-3W4TD-6383H-6XYWF
YYVX9-NTFWV-6MDM3-9PT4T-4M68B
44RPN-FTY23-9VTTB-MP9BX-T84FV
DCPHK-NFMTC-H88MJ-PFHPY-QJ4BJ
QFFDN-GRT3P-VKWWX-X7T3R-8B639
How to activate windows 10 with product key?
Opens any folder within the computer
In the section on the left, where the directories are located, right click on This equipment? and then in Properties?
When you do this, a window will open inside the Configuration?
Scroll down until you find a button that says Change product key or upgrade Windows edition?
In the section Update product key? select Change product key?
Enter one of the codes above and you are ready to go. Now you have Windows 10 activated for free.